My wife, Gina Lake, has just created a new online course with weekly guided meditations that she has channeled from Jesus. Here is a description of the course: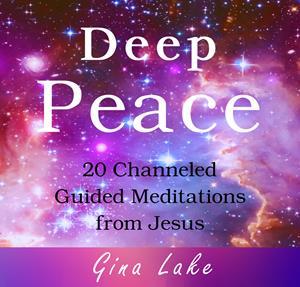 Each week for 20 weeks, you'll receive a channeled guided meditation from Jesus. These guided meditations were given to Gina Lake by Jesus for the purpose of bringing you more deeply into Presence and the experience of your true self. Each guided meditation has a specific message that will uplift you and help you see life through the eyes of Jesus and other Ascended Masters or enlightened beings. These teachings from Jesus are nondual teachings based on the universal truth behind and beyond all religions, not based on any one religion. Each guided meditation is 15-20 minutes long and can be downloaded to any listening device (computer, phone, tablet/ipad, mp3 player).
This collection of guided meditations is accessed through an online course platform (called Ruzuku), where you can download the meditation for that week onto any listening device or listen to it on the platform. This online platform is easy to use and provides an opportunity for you to spend a week with each guided meditation before receiving the next one so that you can fully benefit from it. You will continue to have access to this platform and the guided meditations even after you have received all 20 meditations. These guided meditations, which are mp3s, are yours to keep and use as many times as you like. The cost for the course is $33.00.
Note: These guided meditations were part of the Christ Consciousness Transmissions (CCT) meetings, which take place on Sundays. More information about those online gatherings is here.
A sample guided meditation about who you are from Jesus from Deep Peace is on this page.